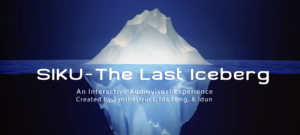 Exhibiting at Tekniska Museet in Stockholm  March 22- June 30th
SIKU – The Last Iceberg
Created by Synthestruct, Ida Long, & Idun
"SIKU – The Last Iceberg"  is an interactive audiovisual experience that tells the story of the loss of sea ice from our planet due to changes in the Earth's climate. Visitors step through time to control the iceberg's fate and learn about the present and future dangers that the disappearance of these icebergs bring.  
At our current trajectory, it is predicted that the Earth will be 4c warmer by 2100. The North Pole is warming up faster than anywhere else in the world, causing glaciers, ice sheets, and sea ice to break apart. Icebergs are being launched into the sea, where they drift, shatter and slowly melt in the warming oceans.
Additional audio for SIKU based on iceberg seismic data collected by Douglas Macayeal, supported by the US National Science Foundation.